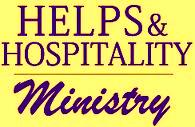 Mission:
The purpose of the Hospitality Ministry is to offer the love of Christ to our guests and welcome them in such a way that they would be transform from strangers into friends.
The word hospitality literally means love of strangers and is found several times in the New Testament (Romans 12:13; 1 Timothy 3:2; Titus 1:8; 1 Peter 4:9).
GOALS
1. Make every visitor, member, or guest feel they are special and belong here.
2. Seek to offer information regarding the ministry and how to get involved.
3. Decrease the stress, anxiety, and confusion for visitors.
4. Provide refreshments and food services for special church programs
5. Create a positive attitude about the church with visitors and members.